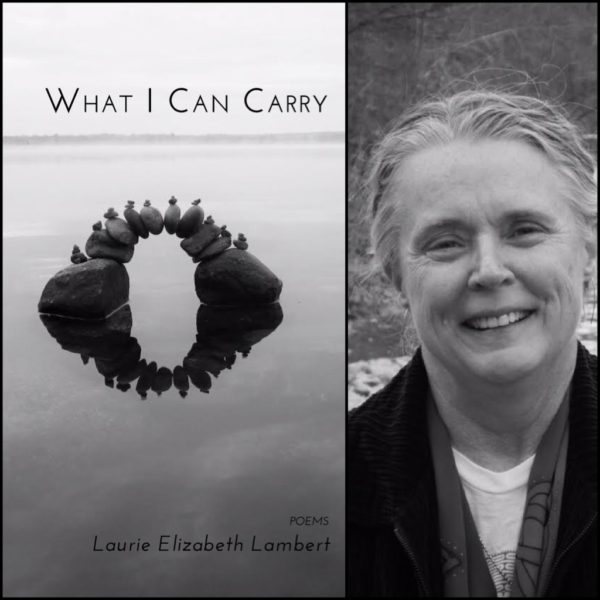 What I Can Carry by Laurie Elizabeth Lambert
There's a line in one poem that states, There's no halfway with the SheWolf. No halfway exists in these poems either. Dr. Lambert has written strong and creative narrative poems with lyrical overtones and images. All the poems are written in depth with passion and love from an author who cares. There is also wordplay and fun in her verse. I believe this is Laurie Elizabeth Lambert's first book. My guess and hope is that there will be many more from such a talented writer.
-Jerry Judge, author of Luna Moth, Outlaw Poet, and several other poetry collections.
Rating: ***** [5 of 5 Stars!]
The poems in Laurie Lambert's first collection, What I Can Carry, hold the wisdom of a woman who does not need to stray far from home to find what matters: the "immeasurably tender" thermometer of a parent's lips on a child's feverish neck; the bittersweet anticipation of tasting the last pecan pie made by an aging mother; a moment of breathing into the life force of a favorite tree. "This large heart, mine," Lambert writes, says "yes yes yes" to a life not unlike the path of the labyrinth of which she also writes, "coming together, moving apart," and returning always to a deep connection with those people and places that are hers to carry.
-Pauletta Hansel, author of Tangle (Dos Madres Press)
Rating: ***** [5 of 5 Stars!]
Mothering has been the deep work of Laurie Lambert's life. Now, as poet, she invites us to consider with her that moment when children are fledging and she must learn the most delicate of tasks, how to mother the newly adult. In poems of tough tenderness and acute detail we see her shift as she steps back to let them thrive – until danger threatens, and she again becomes the She-Wolf.
At this pivotal time the poet goes to nature – its trees, its birds, its rocks clicking in her pocket, and above all, the river – to meditate on the future. No mere metaphor, Lambert's river is her alter ego, the place where she encounters her steadfast and changing soul. In a voice both pensive and eager she looks for what's next, ready, as she says, for something to "shake me up." These are poems to be savored by anyone who has stood at a moment of change.
-Elizabeth Bourque Johnson, author of The Bridge Has No Railings
Rating: ***** [5 of 5 Stars!]
Product Description
What I Can Carry by Laurie Elizabeth Lambert
$13.99, paper